FLIR TG167
Rp 10.000.000,-
Thermal Camera Flir TG167
THERMAL CAMERA
Jual Thermal Camera Flir TG167, Harga Murah Thermal Camera Flir TG167, Distributor Indonesia Thermal Camera Flir TG167, Brosure Cataloge Thermal Camera Flir TG167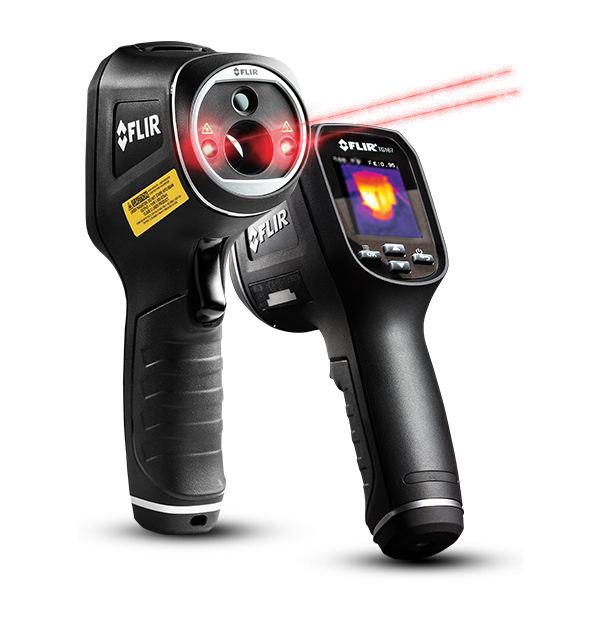 The FLIR TG167 Spot Thermal Cameras bridge the gap between single spot infrared thermometers and FLIR's legendary thermal cameras. Equipped with FLIR's exclusive Lepton® micro thermal sensor, these cameras let you see the heat so you know exactly where to target the measurement spot. Easily find unseen hot and cold spots for instant troubleshooting, and store images and data to show customers and include in reports.
It's all in the details
See Small Details Clearly

The 25° field of view provides image clarity on tiny details from a farther distance, including small connectors and wires.

Intuitive to Operate

Easily save images and data for documentation, and download images fast over USB or via removable micro SD.

Rugged and Reliable

Designed for the harshest environments, the TG167 is durable enough to withstand a 2-meter drop for your toughest jobs.
Specifications
Overview
Accuracy

±1.5% or 1.5°C (2.7°F)
Detector Type

Focal plane array (FPA), uncooled microbolometer
IR Resolution

80 × 60 pixels
Laser

Dual diverging lasers indicate the temperature measurement area, activated by pulling the trigger
Memory Expansion

32 GB SD card maximum
Memory Type

Micro SD card
Object Temperature Range

-25°C to 380°C (-13°F to 716°F)
Thermal Sensitivity/NETD

<150 mK
Environmental
Drop test

Designed for 2 m (6.6 ft)
Humidity (Operating and Storage)

0-90% RH (0-37°C (32-98.6°F)), 0-65% RH (37-45°C (98.6-113°F)), 0-45% RH (45-55°C (113-131°F))
Operating Temperature Range

-10°C to 45°C (14°F to 113°F)
Storage Temperature Range

-30°C to 55°C (-22°F to 131°F)
Tripod Mounting

1/4 in.-20 on handle bottom
Imaging & Optical
Camera size (L x W x H)

186 mm x 55 mm x 94 mm (7.3 in x 2.2 in x 3.7 in)
Camera weight incl battery

0.312 kg (11 oz)
Color palettes

Hot Iron, Rainbow, Grayscale
Field of view (FOV)

25° x 19.6°
Focus

Focus free
Gallery

8549
Image Frequency

9 Hz
Minimum Focus Distance

0.1 m (4 in)
Minimum Measurement Distance

26 cm (10 in)
Spectral Range

8–14 µm
Measurement & Analysis
Center spot

Yes
Meter Data
Display

2.0 in. TFT LCD
Power
Battery operating time

>5 hours of continuous scanning with lasers
Battery Type

Rechargeable Li ion battery
Battery voltage

3.7 V
Charging system

Battery is charged inside the camera
Charging Time

4 hours to 90%, 6 hours to 100%
Power Management

Adjustable; OFF, 1 min., 2 min., 5 min., 10 min.
Battery charge life

30 days minimum
Shipping Information
Includes

Wrist strap lanyard, 8 GB Micro SD card, power supply with separate USB cable, printed documentation
Storage Media
Image Storage Capacity

75 000 pictures with included 8 GB Micro SD card
Saved image format

Bitmap (BMP) image with temperature and emissivity